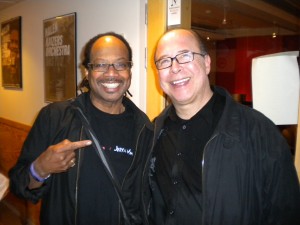 Surprise gig Sunday, had the pleasure of working with the amazing Janice Maxie Reed on vocals & keys. This Lady is stupid bad, can't wait to do more work her OMG …Also there as well was MR. Brain Collier…(I'm to funky  for myself and Fred Ross)  on drums.  Folks for those of you that don't know Brain, he can sing his #%s off.. so singers watch..out there's a drummer out here that can flat out blow. We did this at the Broadway Grill in Burlingame.  Tony Lindsay had me sub for him because of an important show he was doing.  What a trio they are…  when you get a chance check them out Sunday brunch 11 to 2 p.m.
Heading to Vegas this next  weekend.  Visiting friends and catching Tower Of Power on Sunday Night.  Monday night I'm heading over to the Palms to see and sit in for a couple of songs with Santa Fe & The Fat City Horns…The Baddest Band around.
Note: Many many many thanks to my webmaster and total media connection Raoul Fernandes.  All entertainers should have a friend like this guy.
Peace and Blessings—Fred